Circular Economy And Green Chemistry Applications
Why we – the chemical industry – can make a change!
More than ever we are currently facing the enormous challenges of climate change and growth in population which are to be followed by a slew of repercussions. We can make a difference towards a more sustainable world in which everyone strives for innovation and progress without harming our planet. Our current way of producing, consuming and disposing products is just not compatible with the challenges our society is facing. Therefore, it is our responsibility to work towards a circular economy, in which production, consumption and disposal are not one-way, but rather sustainable. We have to change our economic mindset and lifestyle of "take, make, waste" to a way of living which allows to preserve our planet.
This is the reason why the European Commission has brought the "European Green Deal" into life which will provide investments of about EUR 600 billion from NextGenerationEU Recovery Plan and the EU's seven-year budget. The EU makes a powerful and ambitious commitment to take action in changing the world for the better by minimizing overall greenhouse emissions to Zero by 2050 and decoupling economic growth from resource use.
Whenever possible, green chemistry principles should be applied. Besides minimizing or eliminating the use and generation of hazardous substances, alternative sources for educts or other sustainable raw materials need to be explored, starting with biomass, H2 and even CO2. All in all, the focus is to shift the global production to a more sustainable, healthier and cleaner value chain, which uses renewable energy and alternative sources.
The chemical industry has an important role to play since it is part of the key solutions towards today's most pressing issues.
How we support you on circular & green chemistry challenges:
Reverse-engineering or sourcing of rare chemicals and key raw materials
Route scouting and optimization to increase final yields and to maximize atom economy
Synthetic routes to access renewable feedstocks where technically feasible & profitable
Designing safer chemical products to preserve their efficacy while reducing toxicity
Reducing the use of auxiliary substances (solvents, separation agents, etc.) and potential waste
Applying synthetic methods at ambient temperature/pressure to increase energy efficiency
Minimizing unnecessary derivatization to reduce synthesis steps and additional reagents
Analytics for in-process monitoring to anticipate the formation of hazardous substances
Experienced chemists carefully select reagents to enable inherently safer chemical processes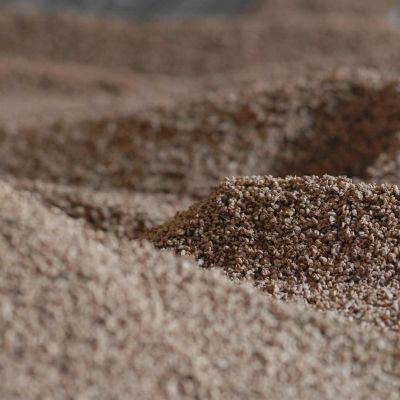 Alternative and sustainable raw materials
Naturally, Carbon as the foundation of life is the basis for most products of the chemical industry. However, in modern living this does not necessarily mean that raw materials have to come from limited resources as crude oil or minerals. Going forward, our clients from diverse industries aim to find smart solutions and use alternative raw materials for production to contribute to a better circular economy. Thereby our clients try to recover products and other used materials as well as incorporate other educts which have been formerly considered waste.
At Taros, we have supported various customers in their R&D on a proof of concept by functionalization of bio-based polymers and materials with our custom synthesis services. Taking advantage of our synthetic chemistry expertise, we could fine-tune polymers by derivatization to deliver compounds for innovative materials. In co-development with our customers, we could translate these physico-chemical properties into the final requirements on the product material. We can add considerable value to our customers' R&D projects on the development of high-performance materials based on renewable material sources.
Innovative strategies for recycling of polymers
One of the major entry points in the transformation to a more sustainable value chain is recycling. However, most of the global production still relies on the paradigm of "produce, consume, dispose". Change can only succeed if all global market players contribute and work together. As a leading chemistry CRO, we want to play a decisive role in this transformation. Since chemical recycling is a key process in value chains, we can have a huge impact by collaborating with our customers on innovative ways of recycling within synthetic chemistry applications. Chemical products can be reused by splitting them into their original forms and structures so they can be processed into entirely new products. The chemical industry is urged to develop smarter and innovative chemical recycling processes as an addition to or even a replacement of mechanical recycling.
At Taros, we can bring in our broad expertise in custom synthesis and chemical process development. For example, we worked with a customer on a process to efficiently regain monomers from a polymer product in order to create a new circular and highly reliable supply of raw materials. The overall challenge was to prevent any loss of product quality, because a production based on the direct use from the old polymer feedstock (via melt, re-press, etc.) will lead to a significant loss of quality of the final polymer properties. Since the separation of polymers has inherent challenges, the strategy was to recover the monomers, followed by a sophisticated purification process which finally created the desired feedstock for the production of new high-performance polymers.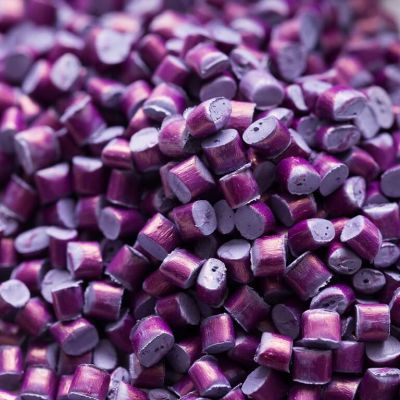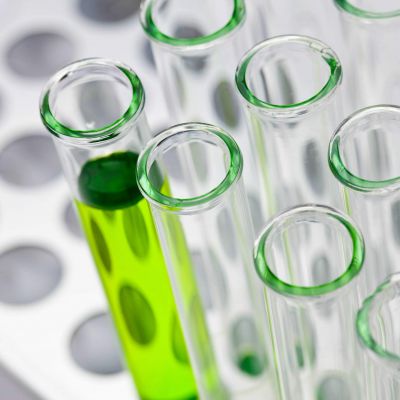 Green Chemistry: An approach to circularity
A fundamental part of becoming more sustainable and shifting towards a circular economy is a focus on green chemistry. This means that the design of new chemical processes and products is focused on the reduction of hazardous substances and waste, using more sustainably resources and increasing the overall energy efficiency. The usage of a renewable feedstock is essential to drive a circular chemistry which eventually enables a circular economoy. Hence, innovative chemical designs and modern synthetic approaches present an effective toolbox for a more sustainable chemistry.
New pathways and opportunities arise where green chemistry and circular economy intersect. This enables a platform for development of a new generation of materials and products. We at Taros help our customers from the chemical industry in their transition into a wider application of green chemistry approaches by preventing chemical substance waste and targeting the design of optimized synthetic routes using safer chemicals, solvents and auxiliaries. With our track record of 20 years in custom synthesis services, we are experienced in route scouting and optimization to increase final yields and to maximize atom economy. In several projects, we were asked to find new synthetic routes in order to introduce alternative substances and renewable resources into the chemical production process. For example, we enabled customers from the petro chemical sector to finally replace their crude oil based additives with sustainable alternatives.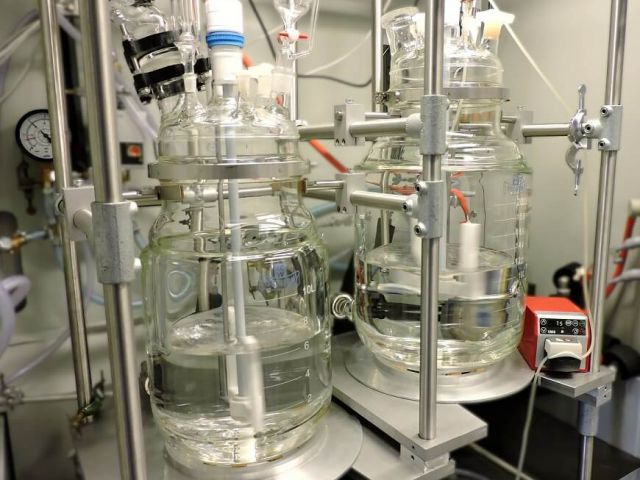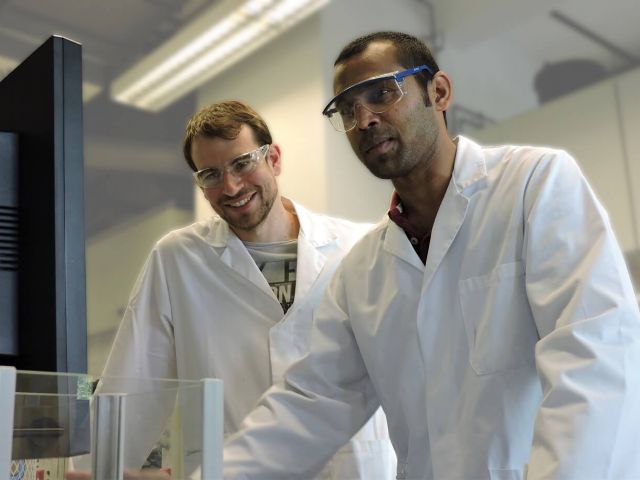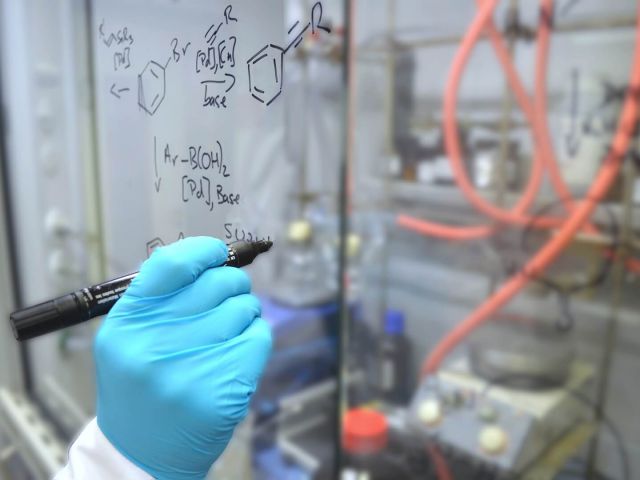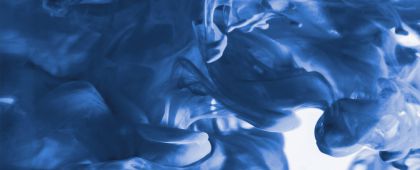 Looks interesting?
As a leading contract research organization in discovery chemistry and custom synthesis, Taros provides comprehensive solutions to meet our clients' needs from diverse branches and applications
Our experienced chemists practice a pragmatic culture and customer-centric approach in order to exceed project expectations and, despite challenges, bridge very narrow timelines. They are trained to consider economic, safety and ecological boundaries and conditions laid out for all stages of the project.