Nitrosamine Impurities & customized Reference Standards
We enable holistic risk management of nitrosamine impurities and advise pharmaceutical companies on how to adjust their processes
Your product ingredients or manufacturing process might be vulnerable to nitrosamine formation?
Confirmatory testing is the last chance to prevent a potential market recall or suspension of your product?
Reference standards for reactivity assessment and risk management are commercially not available?
Need of a one-stop-shop covering chemical and analytical support as well as regulatory and strategic advice?
Due to our outstanding expertise in synthetic chemistry, our equipment for analytical chemistry and handling of highly potent and hazardous substances (in a glove box), we were able to build a proven track record in supporting pharmaceutical companies along their process of risk assessment and management of nitrosamine impurities. Nitrosamines might be identifed as impurities in ingredients, as degradation products or throughout the whole manufacturing process. While others may only provide reference standards (e. g. catalogue provider) or analytical services (testing laboratories), our customers benefit from one-stop-shop services covering:
Customized reference standards

for biological testing of nitrosamine impurities 

Quality control and structure confirmation of synthesized nitrosamine compounds

Determination of detection limits (LODs) of synthesised nitroso degradants

Root cause analysis to trace back all starting materials and excipients besides the API

Solubility studies to support Ames Tests & purge factor analysis to understand strategy options

Stability studies to support Ames Tests, evaluation of the shelf life & introduced nitrosamines

Further strategic consultancy on chemical and regulatory issues to adjust the processs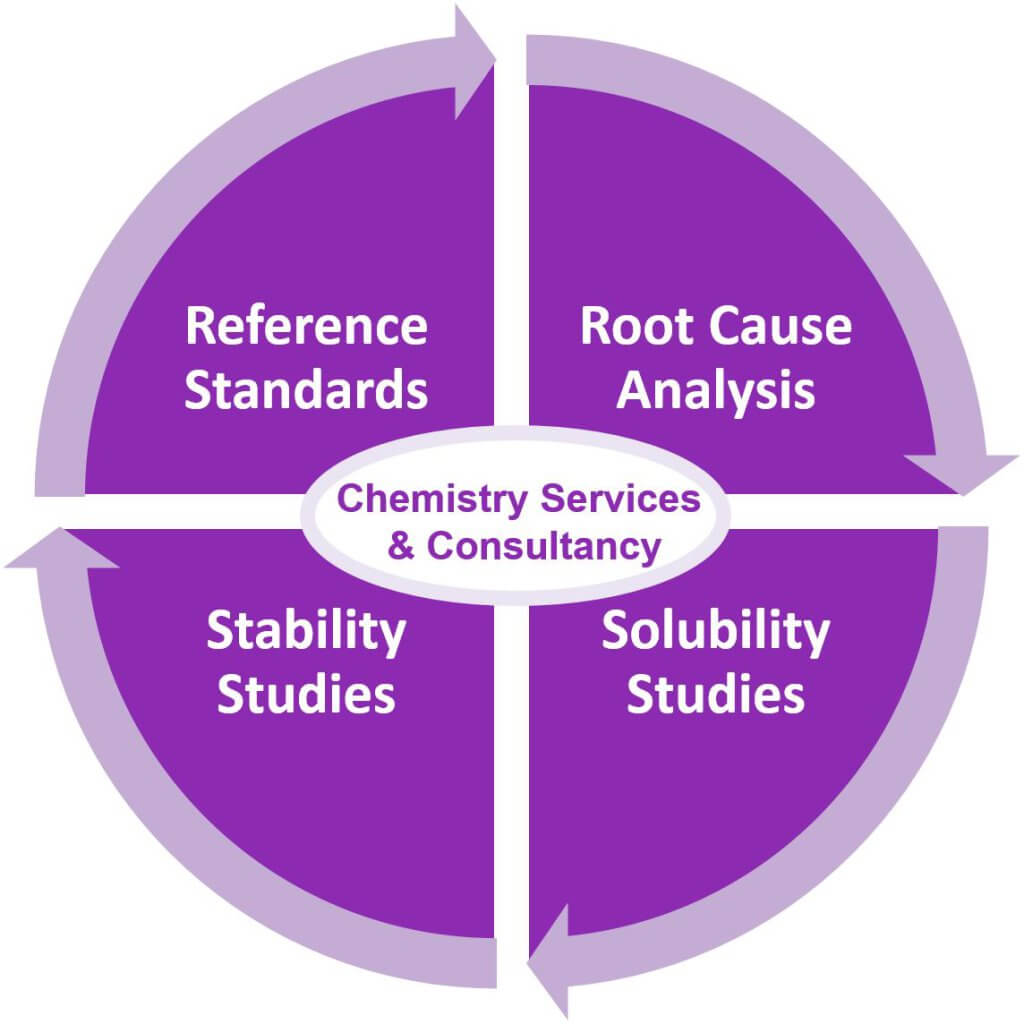 Nitrosamine impurities bear the risk of drug product recalls
In 2018, some sartan medicinal products were reported to be contaminated with nitrosamine compounds, which are potent mutagenic carcinogens. In response to that discovery, drug formulations containing different sartans as active pharmaceutical ingredients (APIs) were recalled by various pharmaceutical firms. Major regulators withdrew a series of medicines containing sartans, ranitidine, and metformin.
Official guidances by FDA (Control of Nitrosamine Impurities in Human Drugs | FDA-2020-D-1530 updated in February 2021) and by EMA (Nitrosamine impurities in human medicinal products | EMEA/H/A-5(3)/1490, June 2020) advise manufacturers of APIs and drug products to detect and prevent objectionable levels of nitrosamine impurities in pharmaceutical products. This strategy includes risk assessment (step 1) of all drugs containing chemically synthesized APIs, confirmatory testing if risks are identified (step 2) and reporting of appropriate actions to reduce/prevent the presence of nitrosamine impurities (step 3). While risk assessments should have been completed in March 2021, the FDA expects confirmatory testing and reporting to be completed in October 2023, and the EMA even expects completion by September 2022.
This guidance applies to all chemically synthesized drugs on the market and those under current review. These groundbreaking regulations are expected to evolve rapidly to limit human exposure to nitrosamine impurities, since a lot of ingredients, degradation products and manufacturing processes are vulnerable to the formation of N‑Nitroso compounds.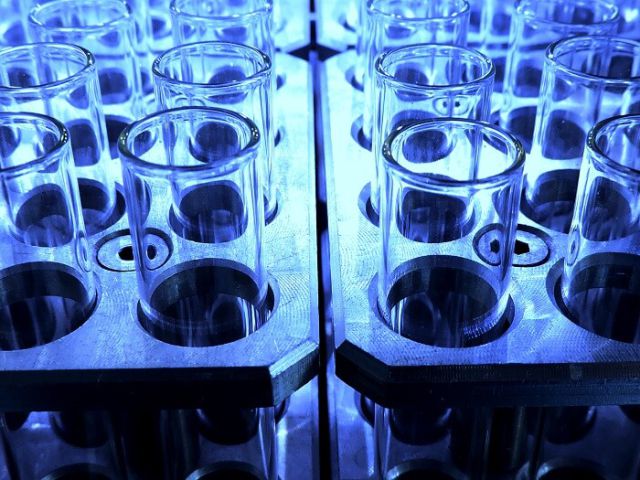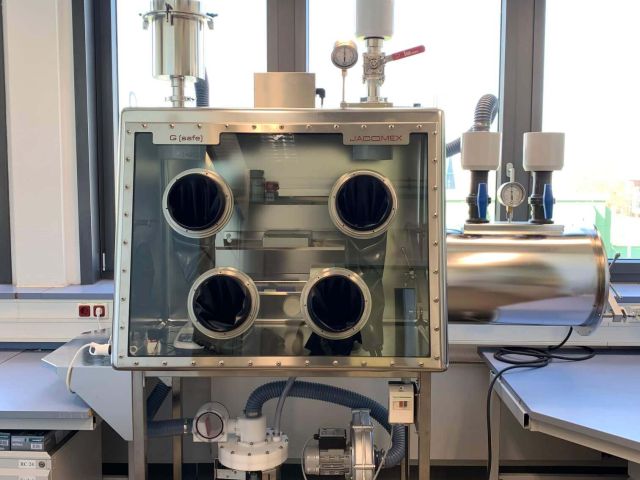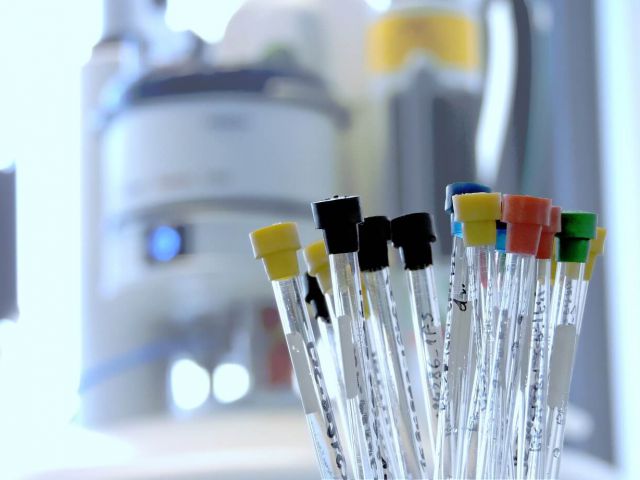 Our workflow for confirmatory testing of nitrosamine impurities
First, we set up a screening panel to assess of reactivity of target compounds such as APIs towards nitrosation at different concentrations of nitrosating agent, reaction times and reaction temperatures. Screening reactions are done in parallel under different conditions and are monitored by UHPLC-MS. Based on the first screening results, the target compounds are classified and selected for further isolation. In cases where nitrosamine formation is suspected but not reliably detected, re-screening with the synthesized reference standards will be followed up.
The limits of detection (LODs) of the target compounds are determined in UHPLC based on UV absorption. Identified nitrosamines, which can be potentially formed from APIs with secondary and/or tertiary amines, are synthesized in quantities depending on complexity of the structure. Considering relevant pharmacopeia, all impurities with the same structural prerequisites and the potential to form nitrosamines are synthesized as well. Nitroso degradants are isolated with a purity of ≥99% in UHPLC and structures are further confirmed by NMR. LODs of synthesized nitroso degradants are finally determined using relevant analytic methods like UHPLC-MS.
At the end, we conduct solubility tests (organic solvents, aqueous buffers) to support a purge factor analysis, which is crucial to understand nitrosamine-related risk and control strategy options. Stability tests (thermal, long-term) are conducted to assess the shelf life of the investigated compound or nitrosamines that could have been introduced within the route of the synthetic process. Especially the nature and stability of the diazonium/carbenium ion is a relevant factor to determine its carcinogenic potential. All information will result in a final test report, which also provides recommendations for a follow-up strategy to conclude the process of risk assessment and confirmatory testing of nitrosamine impurities.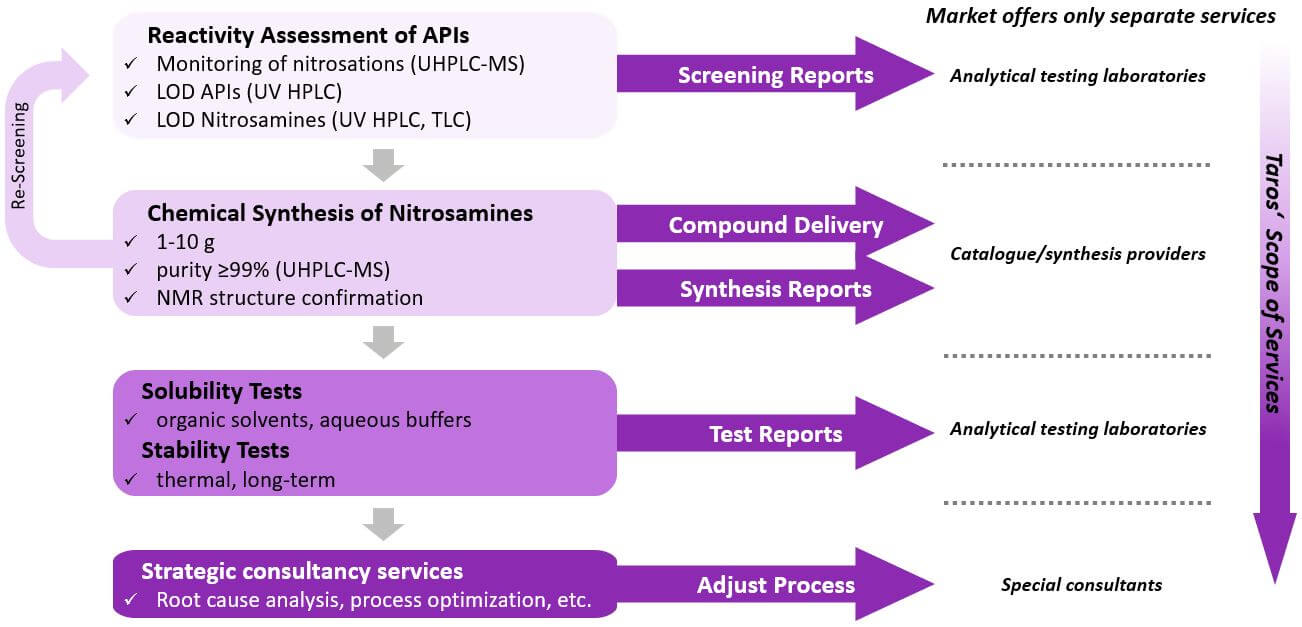 Frequently asked questions on nitrosamine impurities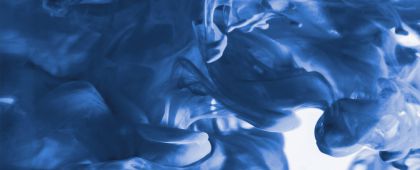 Looks interesting?
As a leading contract research organization in discovery chemistry and custom synthesis, Taros provides comprehensive solutions to meet our clients' needs from diverse branches and applications
Our experienced chemists practice a pragmatic culture and customer-centric approach in order to exceed project expectations and, despite challenges, bridge very narrow timelines. They are trained to consider economic, safety and ecological boundaries and conditions laid out for all stages of the project.